Award Marks Elantra's Second Win in the Compact Category
Vincentric Recognizes the 2018 Elantra as the Best Value Compact Car in the U.S.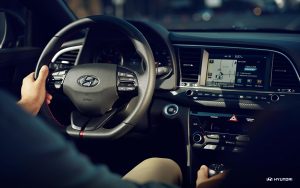 FOUNTAIN VALLEY, Calif., Feb. 27, 2018 – Hyundai's reputation in delivering incredible value for its customers continues as leading cost and value analysis group Vincentric named the 2018 Elantra its Best Value award winner for the Compact class. This marks Elantra's second Best Value award win and continues to highlight the long-term success of the model, which was also recently recognized as a Top Safety Pick+ by the Insurance Institute of Highway Safety (IIHS).
The Vincentric Best Value awards are given to vehicles which have lower than expected ownership costs given their market segment and price. The prize measures cost-of-ownership using eight different cost factors: depreciation, fees & taxes, financing, fuel, insurance, maintenance, opportunity cost and repairs.
With available safety features like Blind Spot Detection and Lane Change Assist, standard Blue Link features and available Android Auto and Apple CarPlay, Elantra shows that excellent value doesn't need to forsake driver experience.
"The Elantra is a great example of how we are pushing the standard for what is considered great value in this class," said Scott Margason, director, Product Planning, Hyundai Motor America. "Its design, driver experience, infotainment and available safety features are a testament to making value not just about the savings you get out of your vehicle, but the experience as well."
"Our Best Value award highlights vehicles that deliver strong value throughout their lifecycle," said David Wurster, president of Vincentric. "The Elantra's win showcases Hyundai's ability to provide better total cost of ownership, delivering higher value to their customers in the segment."