The Buick Enclave: The Beautiful SUV That Works for You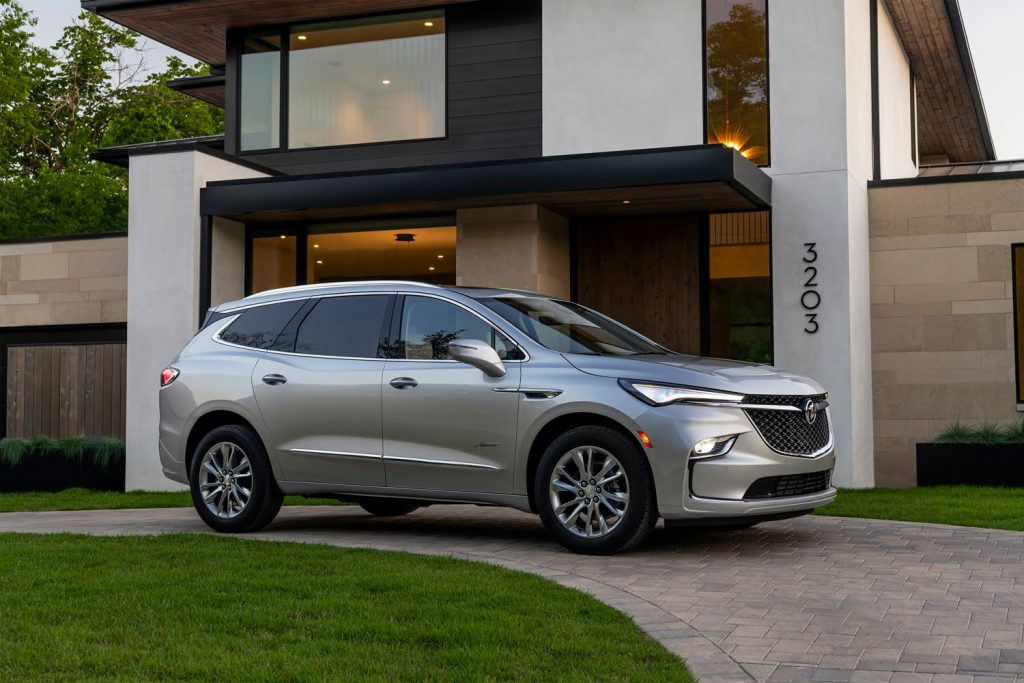 Did you know that the Buick Enclave is the only midsize luxury SUV made in America? Did you know it's also one of the most spacious SUVs on the market? Did you know that no other luxury SUV gives you more room for your stuff, more cargo volume and more third-row seating than an Enclave? The Buick Enclave has been popular amongst Buick lovers for years. There are many reasons why this car is so beloved by its owners. First, as we mentioned above, it's made in America, which means that quality materials and manufacturing techniques were used to create it. That makes a big difference in how an automobile feels and operates every day. Second, because of its luxurious cabin, smooth ride and functional amenities, the Enclave functions like a much smaller vehicle. In addition to those two things, it also has plenty of space for passengers and their luggage in the event they tag along with you on your next trip. Lastly – and perhaps most importantly – we love it because it comes from Buick! The brand is known for its attention to detail when it comes to designing vehicles with customers foremost in mind. Here are some details about why we love this vehicle so much…
The 2023 Buick Enclave is Big on Space
The Buick Enclave is large and roomy – inside and out. A cavernous interior means lots of leg, head and shoulder room for passengers. The generous amount of space in the cabin also makes it easy to stow lots of gear for your next adventure. The Enclave's large cargo area has an easy-to-open liftgate – and you can extend the cargo floor by pressing a button. The floor can also be raised to create more space if you're hauling something tall. The GM-engineered 3rd-row seats fold down to create even more space if you need it.
The Buick Enclave Has Plenty of Cargo Space
The Enclave can haul up to 77 cubic feet of stuff behind its third-row seats. That's more than the space in a full-size pickup bed. And even with the third row in place, the Enclave has a generous 16 cubic feet of cargo space. That's enough space to carry a couple of full-sized suitcases, a full-sized golf bag and a couple of large pieces of outdoor gear at the same time.
Buick Enclave: 3rd-Row Seating for Passengers or Stuffed Animals
If you're planning a weekend getaway for family and friends, the Enclave's third-row seating is a great way to maximize the vehicle's capacity. The seats fold easily and tumble forward, providing a wide path to the Enclave's rear storage area. If you don't need the third-row seats, they fold down to create more space to store luggage or Outdoor Cats.
Buick Enclave: A Comfortable Ride
The Buick Enclave is equipped with Buick's QuietTuning technology, which includes sound-deadening materials and specially designed door seals to reduce road noise inside the cabin. The Enclave's standard 19-inch wheels and tires also help keep the ride smooth and quiet. Standard features such as the Buick IntelliLink infotainment system with Apple CarPlay and Android Auto, and a hands-free power liftgate add to the Enclave's overall comfort.
Buick Enclave: Convenient Amenities for the Traveling Road Warrior
The Enclave comes standard with Buick's IntelliLink system, which allows drivers to control their navigation, audio, climate and more with their voice. The Enclave also has a wireless charging pad for smartphones, a heated steering wheel and a heated second-row bench seat.
Buick Enclave: Last but not least: Buick's Quality and Reputation
The Enclave was awarded the 2019 IIHS Top Safety Pick+ designation. It has also earned a 5-star Overall Vehicle Score from NHTSA and a 10-year/100,000-mile powertrain warranty. Buick has been in the business of making reliable, stylish cars for more than 100 years. The brand's reputation for quality and customer satisfaction has been earned over a long history of providing reliable, stylish and technologically advanced vehicles.
Wrapping up
The Buick Enclave is a great choice for a midsize luxury SUV. It is made in the U.S.A. and is loaded with features that make it an enjoyable daily driver. From its spacious interior to its comfortable ride, the Enclave is sure to make every trip enjoyable. If you're in the market for an SUV, the Buick Enclave is a great choice. It's made in the U.S.A. with quality materials and a reputation for longevity. When you drive an Enclave, you're driving a vehicle that's designed with the driver in mind.
Visit Key Buick GMC, and test drive the all-new Buick Enclave